13 Unholy But Delicious Things To Do With Potato Chips (Recipes)
category:
By Cooking Panda
It's no secret that potato chips — smooth or ridged, plain or barbecue — are delicious straight out of the bag. Less celebrated, and shamefully so, is their ability to add an unexpected touch of whimsy to just about any dish. Here are 13 crunchiness things to eat with potato chips with an ideal combination of flavors in different ways to appreciate the salty, delicious things to do with potato chips, crispy, lays,  powerful potato chip in everything from snacks to desserts. Potato is an important vegetable which covers a lot of dishes and we're on the lookout to add more recipes that use potato chips, once found we'll add those here too. If you want to know about things to do with chips, are thinking about what to do with potato chips or looking for recipes with lays chips, we have collection of recipe using potato chips:
cooking with potato chips and recipe with crushed potato chips!
Three-cheese pasta with crispy bacon, mushrooms and peas sounds great on its own. Try it baked with a parmesan and crushed potato chip crust, though, and you'll wonder why you ever made mac and cheese without a bag of Lay's.
Because everything tastes better with butter, sugar and chocolate.
These salty nachos are topped with far better than plain ol' shredded cheese. They're drizzled with a cheese sauce made from steak drippings, white wine, butter, cream and, oh yes, a mixture of blue and Gruyere cheeses. It's poured carefully over the chips, followed by a generous helping of juicy steak and green onions, until each bite is laden with meaty, cheesy bliss.
Coated with kettle chips and panko breadcrumbs, these quick and easy oven-fried tenders have a guaranteed crunch factor.
A buttery, salty potato chip crust balances handsomely with a sweet chocolate and coconut cream filling. It's rich, it's sleek, it's magnifique.
This warm chicken salad goes far beyond the classic mix-ins of celery and mayonnaise. It's tossed with a flavorful seasoning mix, cheddar cheese and cooked bacon — and topped with potato chips and baked until crispy yet gooey. Eat it on your favorite bread, over a bed of greens or straight from the pan.
Inspired by onion dip, this surprisingly delicious appetizer gets creaminess from cream cheese, flavor from chopped chives and softened spring onions, and contrast from crunchy crushed chips. For a simple and elegant look, garnish it with whole chives before baking. To mimic the appearance of dip, spread it with sour cream, chives and extra chips.
These brownies cover every texture in the book: chewy fudginess from the brownie base, buttery silkiness from the chocolate topping, creaminess from Reese's cups, and, of course, crunchiness from pretzels, Oreos and potato chips.
There's nothing sad about this gloriously Southern combination of cheesy potatoes, cream of chicken, sour cream and crushed potato chips.
This addictive appetizer comes together with a bag of kettle chips, tossed on a pan and topped with brown sugar, maple syrup, cheddar cheese, bacon and cayenne, then baked. It's so simple, I'm not sure if it sounds easier to make or easier to devour in one sitting.
Combine two essential party snacks into one with this sweet and salty bake.
Chips make a great side for sandwiches — until they get knocked off your plate. They serve a far better purpose inside of a sandwich. In this case, their saltiness cuts through the richness of cheese, and their crunchiness adds another dimension of texture to a tried and true treat.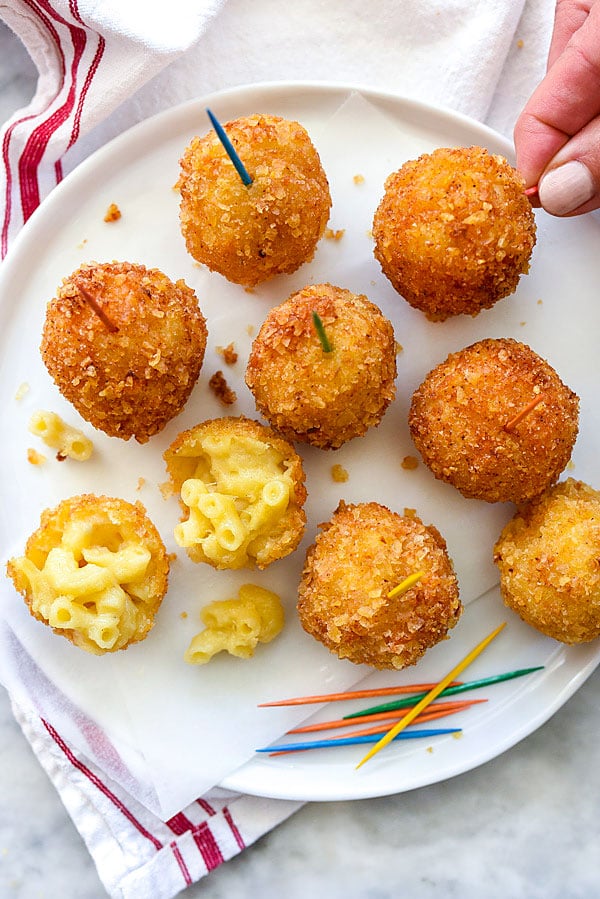 We started with mac and cheese, so let's end with it, too. These golden brown babies combine the soft creaminess of cheesy mac with the crisp saltiness of potato chips into one (OK, maybe two or three) glorious bite.
Featured image credit:
Pixabay
Tags:
Appetizer
,
appetizer with potato
,
brownies
,
buffalo chicken salad
,
cheese pasta
,
cheesy bacon
,
cheesy potatoes
,
chicken salad
,
chicken salad recipe
,
chicken tenders
,
chips
,
chips chicken tenders
,
chips recipe
,
chips toffee
,
chive cheesecake
,
cook potato chips
,
cookies
,
crack
,
crispy bacon
,
crunchy
,
crushed potato chips
,
desserts
,
do with potato chips
,
easy dinner
,
fired mac and cheese balls
,
Fried Snacks
,
Funeral
,
funeral potatoes
,
gorgonzola
,
grilled cheese
,
holiday crack
,
hot chicken salad
,
kettle chips
,
kitchen crack
,
mac and cheese
,
mac and cheese balls
,
panko breadcrumbs
,
potato chip grilled cheese
,
potato chip nachos
,
Potato Chips
,
potato chips chicken
,
potato chips chicken tenders
,
potato chips crust
,
potato chips recipes
,
potato chips toffee
,
potato cookies. potato chips cookie
,
potatoes
,
recipes
,
recipes with lays
,
salty
,
salty chocolate
,
salty chocolate tart
,
salty nachos
,
savory chive cheesecake
,
steak
,
steak and gorgonzola
,
things with potato chips
,
toffee
Would You Try These 'Guardians Of The Galaxy' Doritos?
category:
By Cooking Panda
Is anybody else getting some serious purple-and-green ketchup bottle flashbacks here?
If you're a fan of the franchise (or possibly just Chris Pratt), you are probably well aware that the new movie "Guardians of the Galaxy Vol. 2" is making its debut in theaters on May 5.
In celebration of that fact, the ever-popular snack brand Doritos decided to release its classic cheesy triangle chips in a brand new hue and flavor — emerald green, to be exact, as a limited edition Supernova flavor.
These things are green, ya'll.
Like, really green.
According to Food Beast, the Supernova Edition of Doritos are flavored like zesty lime with a subtle kick of black pepper as well, but no word yet on whether or not they stain your tongue green, like those hot pink Peep Oreos did to so many people.
If you're in Australia, you can pick up a bag of these chips in the snack food aisles of participating grocery retailers in Australia.
The rest of you will just have to scour the internet to try and nab yourself a bag if you are a true rare-chip collector, or else just a massive fan of the movie franchise.
How will you be celebrating the release of "Guardians of the Galaxy Vol. 2"?
Are you going to try and get your hands on these limited edition chips and give them a taste? Or are you content to munch on your tried-and-true, preferred movie theater choice as usual, and save all the excitement for the screen and after-movie discussion with your friends?
Source: Food Beast / Photo Credit: Asha Anderson/Instagram
Tags:
chips
,
chris pratt
,
doritos
,
guardians of the galaxy
,
supernova
Garlic Kale Chips
category:
By Cooking Panda
This Person's Chip Bag Was Seriously Underfilled
category:
By Cooking Panda
This is such a travesty. A crime against snacking!
Everybody knows that chip companies tend to underfill their chip bags, and there is nothing worse than opening up a bag for a snack and discovering that you have been seriously ripped off.
For real, though — why do they think they can get away with selling us all bags of chips that are typically only, like, 25 percent full? It's so unfair!
At least we tend to get a couple of handfuls of chips, even in the snack-size varieties. But if you were this unlucky man in Nottingham, England, you wouldn't even receive that.
When Samuel bought a low-calorie bag of LoveLife Waitrose crinkle cut crisps, he was probably expecting to get the standard amount of chips in his bag for less calories — and by standard amount, we mean definitely more than one single freaking chip.
But unfortunately, that did not happen.
That's right; he opened up his bag of snacks, which cost him almost $2, and was rewarded with one single chip. One. That's all. The loneliest number!
To be fair, Samuel and his mother Helen Abbott suspected that the bag they purchased was underfilled more than usual, but they were shocked to discover just how little food was actually inside of the bag.
"Wow. That's a new sort of scrimping on crisps init," Metro reports Samuel as saying.
"It's hilarious. I've emailed Waitrose, but we've heard nothing back," added his mother.
As for Waitrose, the company that sold the chips, a spokesperson had this to say for themselves to Metro:
"We're just as baffled as to why there was only a lonely crisp in the bag. We're sorry for the disappointment and will be looking into what happened to the crisp's friends to make sure it doesn't happen again. We'd welcome the customer getting in touch so we can make things right."
Source: Metro / Photo Credit: Maria Wallin/Instagram
Tags:
chips
,
crinkle cut
,
lovelife
,
Potato Chips
,
waitrose
Fish And Chips On A Stick
category:
By Cooking Panda
Say Hello To Pringles Newest 'Loud' Flavors
category:
By Cooking Panda
Pringles fans rejoice! We now have five new flavors to add to our favorite snack collection.
Thrillist reports that Pringles has released five bold new flavors called LOUD Crisps: Mighty Margherita Pizza, Fiery Chili Lime, Super Cheesy Italian, Salsa Fiesta and Spicy Queso. Without having even tried them, I can already see which one is my favorite. Mighty Margherita Pizza is calling my name.
While the names of the flavors themselves make the actual taste of the chip pretty self-explanatory, Thrillist did a taste test in order to let all the rest of us eager fans know just what to expect when we run to the store to get these new snacks. Here's what they reported.
Spicy Queso — They loved it! They actually said it reminded them of Taco Bell. Imagine that; Taco Bell in chip form. I'm surprised the fast food chain hasn't already done this!
Fiery Chili Lime — Like lime tortilla chips already dipped in the salsa, Thrillist says, not too shabby.
Mighty Margherita Pizza — Like the writers at Thrillist, the pizza flavor is also my personal favorite Pringle. After reading their review, I'm still excited to try it, since it's just like the regular pizza flavor but with a hint of basil. Yum.
Super Cheesy Italian — Thrillist warns this one might be too cheesy for those who may not be cheese-obsessed. Be ready for it!
Salsa Fiesta — Like tortilla chips dipped in spicy salsa. I love these ideas.
According to Fortune, one senior director of marketing for the Kellogg company (did you know Pringles was owned by Kellogg's?) said that this array of flavors is what keeps fans excited. "We do flavor innovation every year, looking at what's happening in salty snacks or even more broadly in food," he said. The goal with this new line was to combine flavors to create chips with more depth, so that when we chow down, we aren't just getting one overwhelming flavor, but we are experiencing a couple of different ones.
The new Pringles LOUD flavors are hitting shelves now and cost $1.69 per can. Go see if your store has them!
Sources: Thrillist, Fortune / Photo Credit: Thrillist, Pringles/Instagram
Tags:
chips
,
Kellogg's
,
pringles
,
Pringles Flavors
,
snacks
This Advent Calendar Makes For A Very Merry Crispmas
category:
By Cooking Panda
If anything can cure our cold-weather woes, it's a nice, heaping serving of potatoes — be they fried, scalloped, baked, mashed, boiled, roasted or in the form of chips, they are always a welcome sight.
Alex Donoyou, 32, totally wins the Partner Of The Year award for the brilliant gift he bequeathed to his girlfriend of six years, Heather Lloyd — an advent calendar for the holidays comprised entirely of chips (or, as they say in the U.K., crisps).
"Merry Crispmas" the advent calendar reads, followed by 25 bags of Lloyd's favorite fried snacks — a brand that Metro reports as being called Twiglets — hanging decoratively on the wall.
We guess after six full years of dating, you have to get creative beyond the typical chocolate and wine gifts usually exchanged during the holiday season.
Look how happy she looks!
According to Metro, the task was not an easy one — Donoyou reportedly ran around trying to find copious amounts of different, yet delicious, crisp flavors so that Lloyd would not tire of the gift, and every day would be a new and tasty surprise.
Additionally, all of the gifts were hidden inside of identical and seasonal white-and-red striped bags (just like candy canes!) to further build the suspense for Lloyd each yummy morning.
Would you like to receive a Merry Crispmas advent calendar? Or are you content with your typical chocolate fare?
Sources: Metro / Photo Credit: Snackgold/Instagram, Alex Donoyou/Guzelian via Metro
Tags:
advent calendar
,
chips
,
crisps
,
holiday gift
,
potatoes
,
relationship goals
Get Into The Olympic Spirit With Lay's Passport To Flavor
category:
By Cooking Panda
Is everybody ready for this? Because Lay's just took their chips to the next level, and it's awesome. By now we're all familiar with Lay's "Do Us A Flavor" contest. People submit their favorite chip ideas, we try them, we vote on them and one of those becomes a chip forever and ever. (West Coast Truffle Fries 4lyfe!)
As we mentioned a few weeks ago, Lay's has done something different this time with their Passport to Flavor, giving us four chips inspired by the flavors of the world: Chinese Szechuan Chicken, Indian Tikka Masala, Greek Tzatziki and Brazilian Picanha. And because we care (and we love eating chips!) we tried them on your behalf. So how did the chips stack up for us at Cooking Panda? Let's discuss.
4) Chinese Szechuan Chicken
Unfortunately, Chinese Szechuan Chicken was our least favorite of the bunch. I'm even someone who generally enjoys the taste of chicken flavored chips, but this one had a very interesting after taste. As someone said, "It tastes like chicken. And I want to keep eating it. But…I don't." If you do like things with strong flavors that you wouldn't expect in chip form, then this might be your jam. Sadly, it wasn't for us.
3) Indian Tikka Masala
​
We had such hopes for this one! And while it did have a great crunch, it wasn't as flavorful as we were hoping. I mean, if someone were to give me a bag of these chips, of course I would eat them, but as I was eating, I'd probably be thinking, "If only this was a tad bit spicier." You will definitely appreciate this though if you like Indian food, but can't handle how overpowering some of the flavors can be.
2) Greek Tzatziki
If there was one chip that tasted EXACTLY how you hoped it would, it was this one. The yogurt and cucumber flavors were totally on point, and worked especially well with the wavy texture. It almost made me want to hit up my local Greek restaurant and crumble up these chips all over my gyro. Actually, that's an amazing idea. People of the world! Buy these chips and go do that!
1) Brazilian Picanha
​
While Greek Tzatziki made a valiant effort, hands down the best flavor is Brazilian Picanha. Before you stop yourself from trying them because they're meat-flavored chips, hear us out! They are DELICIOUS meat-flavored chips! You could taste the smokiness of the steak, which paired perfectly with the garlicky, parsley and oregano flavor from the chimichurri. As someone exclaimed upon trying it for the first time, "Can I just eat these chips forever? Please?"
So do yourself a favor and go pick up all of these chips! Have a taste-test of your own, and let us know how things fared for you. Did you like Szechuan Chicken more than we did? Do you think we're crazy for going with Brazilian Picanha over Greek Tzatziki? Let us know!
Tags:
chips
,
lay's
Attention Chip Fans: Lay's Is Bringing You 4 New International Flavors To Try
category:
By Cooking Panda
With the 2016 Summer Olympics fast approaching, Lay's wants to ensure that fans nationwide have a wide variety of chips to snack on while watching the talent on-screen — which is why the company has decided to bring four international flavors of Lay's chips to all its stateside fans in honor of the occasion.
According to the press release, the four new popular flavors will be available in stores starting on July 25.
"This summer, all eyes will be on the global stage, reminding us of our desire to travel and explore the world. While most of us can't just hop on a plane, all of us can travel through our taste buds," Jeannie Cho, vice president of Frito-Lay marketing, said in the press release. "The Passport to Flavor program invites consumers to try four delicious new global flavors, while also giving them a chance to win a variety [of] different trips and travel-related prizes."
Lay's cites a recent Mintel study, which demonstrated that three out of five people now claim to have become more adventurous when it comes to sampling ethnic cuisines, as an additional inspiration for bringing the flavors stateside.
Check out the list of flavors, courtesy of the press release, below:
Brazilian Picanha – the potato chip captures the flavor of Picanha, the finest cut of Brazilian steak, which is skewer-grilled with coarse salt to lock in flavor with a mix of chimichurri sauce.
Chinese Szechuan Chicken – The regional Sichuan Pepper is where takeout favorite Szechuan Chicken gets its name. The potato chip embodies the dish with the tongue-tingling sensation of "mala."
Greek Tzatziki – Made up of a mix of dill, garlic and other unique spices added to yogurt, Tzatziki is a Mediterranean classic.
Indian Tikka Masala – Packed with flavorful spices like turmeric and cumin, the tomato-based dish Tikka Masala is a fixture in global cuisine.
Sources: Lay's via PR Newswire / Photo credit: Lay's/Twitter
Tags:
2016 summer olympics
,
chips
,
Frito-Lay
,
lay's
,
olympics