Tag:
buffalo chicken salad
13 Unholy But Delicious Things To Do With Potato Chips (Recipes)
category:
By Cooking Panda
It's no secret that potato chips — smooth or ridged, plain or barbecue — are delicious straight out of the bag. Less celebrated, and shamefully so, is their ability to add an unexpected touch of whimsy to just about any dish. Here are 13 crunchiness things to eat with potato chips with an ideal combination of flavors in different ways to appreciate the salty, delicious things to do with potato chips, crispy, lays,  powerful potato chip in everything from snacks to desserts. Potato is an important vegetable which covers a lot of dishes and we're on the lookout to add more recipes that use potato chips, once found we'll add those here too. If you want to know about things to do with chips, are thinking about what to do with potato chips or looking for recipes with lays chips, we have collection of recipe using potato chips:
cooking with potato chips and recipe with crushed potato chips!
Three-cheese pasta with crispy bacon, mushrooms and peas sounds great on its own. Try it baked with a parmesan and crushed potato chip crust, though, and you'll wonder why you ever made mac and cheese without a bag of Lay's.
Because everything tastes better with butter, sugar and chocolate.
These salty nachos are topped with far better than plain ol' shredded cheese. They're drizzled with a cheese sauce made from steak drippings, white wine, butter, cream and, oh yes, a mixture of blue and Gruyere cheeses. It's poured carefully over the chips, followed by a generous helping of juicy steak and green onions, until each bite is laden with meaty, cheesy bliss.
Coated with kettle chips and panko breadcrumbs, these quick and easy oven-fried tenders have a guaranteed crunch factor.
A buttery, salty potato chip crust balances handsomely with a sweet chocolate and coconut cream filling. It's rich, it's sleek, it's magnifique.
This warm chicken salad goes far beyond the classic mix-ins of celery and mayonnaise. It's tossed with a flavorful seasoning mix, cheddar cheese and cooked bacon — and topped with potato chips and baked until crispy yet gooey. Eat it on your favorite bread, over a bed of greens or straight from the pan.
Inspired by onion dip, this surprisingly delicious appetizer gets creaminess from cream cheese, flavor from chopped chives and softened spring onions, and contrast from crunchy crushed chips. For a simple and elegant look, garnish it with whole chives before baking. To mimic the appearance of dip, spread it with sour cream, chives and extra chips.
These brownies cover every texture in the book: chewy fudginess from the brownie base, buttery silkiness from the chocolate topping, creaminess from Reese's cups, and, of course, crunchiness from pretzels, Oreos and potato chips.
There's nothing sad about this gloriously Southern combination of cheesy potatoes, cream of chicken, sour cream and crushed potato chips.
This addictive appetizer comes together with a bag of kettle chips, tossed on a pan and topped with brown sugar, maple syrup, cheddar cheese, bacon and cayenne, then baked. It's so simple, I'm not sure if it sounds easier to make or easier to devour in one sitting.
Combine two essential party snacks into one with this sweet and salty bake.
Chips make a great side for sandwiches — until they get knocked off your plate. They serve a far better purpose inside of a sandwich. In this case, their saltiness cuts through the richness of cheese, and their crunchiness adds another dimension of texture to a tried and true treat.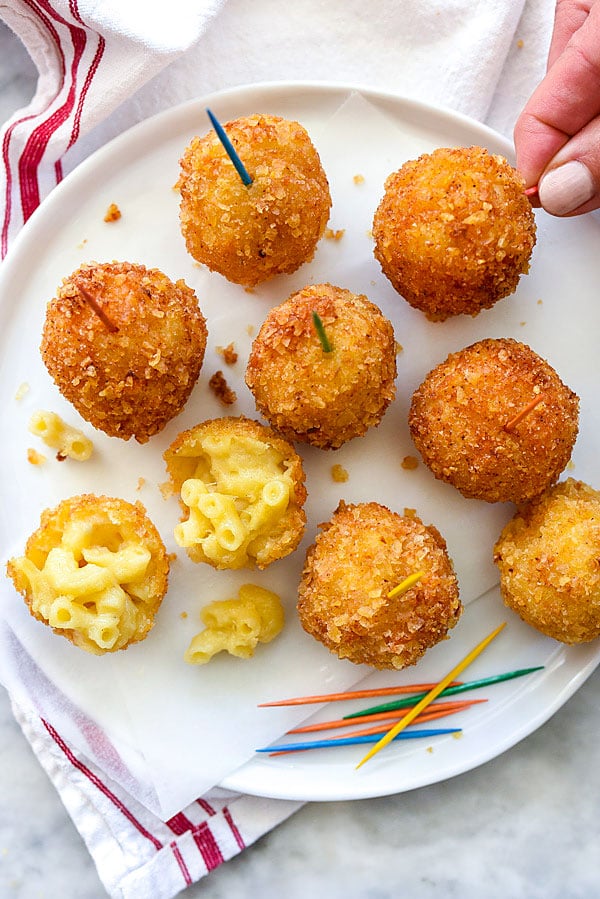 We started with mac and cheese, so let's end with it, too. These golden brown babies combine the soft creaminess of cheesy mac with the crisp saltiness of potato chips into one (OK, maybe two or three) glorious bite.
Featured image credit:
Pixabay
Tags:
Appetizer
,
appetizer with potato
,
brownies
,
buffalo chicken salad
,
cheese pasta
,
cheesy bacon
,
cheesy potatoes
,
chicken salad
,
chicken salad recipe
,
chicken tenders
,
chips
,
chips chicken tenders
,
chips recipe
,
chips toffee
,
chive cheesecake
,
cook potato chips
,
cookies
,
crack
,
crispy bacon
,
crunchy
,
crushed potato chips
,
desserts
,
do with potato chips
,
easy dinner
,
fired mac and cheese balls
,
Fried Snacks
,
Funeral
,
funeral potatoes
,
gorgonzola
,
grilled cheese
,
holiday crack
,
hot chicken salad
,
kettle chips
,
kitchen crack
,
mac and cheese
,
mac and cheese balls
,
panko breadcrumbs
,
potato chip grilled cheese
,
potato chip nachos
,
Potato Chips
,
potato chips chicken
,
potato chips chicken tenders
,
potato chips crust
,
potato chips recipes
,
potato chips toffee
,
potato cookies. potato chips cookie
,
potatoes
,
recipes
,
recipes with lays
,
salty
,
salty chocolate
,
salty chocolate tart
,
salty nachos
,
savory chive cheesecake
,
steak
,
steak and gorgonzola
,
things with potato chips
,
toffee
Did You Buy Whole Foods Chicken Salad? It Got Recalled (Photo)
category:
By Cooking Panda
If you have a container of Whole Foods' buffalo chicken salad at home, you may want to throw it out.
The famous grocery chain is pretty well known for offering a reliably high standard of quality in exchange for the often high price tag, but it seems that even for them, mistakes happen — and I'm not talking about selling skinned fruit or halved avocados this time.
As it turns out, Massachusetts-based Willow Tree Poultry Farm issued a massive recall for their 12.5-ounce individual plastic containers labeled as "buffalo style chicken salad," the USDA Food Safety and Inspection Service announced on their website on July 1.
It is labeled as a Class I Recall with a high health risk. The USDA describes this recall classification as having "a reasonable probability that the use of the product will cause serious, adverse health consequences or death."
The news release notes that the recall affects approximately 440 pounds of tuna salad misbranded as chicken. It does not label the tuna — an allergen to some — on the package.
The affected products have the establishment number "P-8827" inside the USDA mark of inspection and were distributed to Whole Foods stores in Connecticut, New Jersey and New York.
"There have been no confirmed reports of adverse reactions due to consumption of these products," notes the FSIS release. "Anyone concerned about an injury or illness should contact a healthcare provider."
Still, the release urges those who bought the "chicken salad" to either throw the item away or return it to the store — just don't eat it.
A Willow Tree spokesperson told Fox News that the chicken packages had accidentally been filled with cranberry-apple tuna salad and that the company provides some "private label" products to select Whole Foods stores and that only those items at approximately 35 stores were affected.
Fox News notes that Willow Tree also recalled more than 200 pounds of Whole Foods "chicken salad" in January after it was discovered to contain egg salad instead.
Sources: USDA FSIS, Fox News / Photo Credit: Osbornb/Flickr, USDA FSIS
Tags:
buffalo chicken salad
,
recall
,
tuna instead of chicken
,
whole foods
,
Whole Foods mistake