Blue Wine Is Finally Coming To America! (Photos)
category:
By Cooking Panda
To some, blue wine is a wildly fun and brightly Instagrammable way to get your fix of novelty booze. To others, it is complete blasphemy. But love it or hate it, the much-awaited new way to drink your grape juice is coming to the U.S. Finally.
The booze, which comes from Spanish company Gik, will be arriving in Miami, Boston and Texas stores as early as September, after a technical hiccup kept them from delivering more than 30,000 bottles that people pre-ordered online after the product became wildly popular in summer 2016, reports Eater.
According to Gik's website, the wine is 11.5 percent alcohol, and they decided to make it blue to make it more accessible and to represent a calm ocean.
????????????????????!!
?????????—?????????????????#???? #???? #gik pic.twitter.com/RaYeWzZvLy

— ??@BAR LOUNGE1818??? (@BarLounge1818) August 1, 2017
The blue stuff, developed by six 20-somethings who were looking for a less-stuffy way to bring wine to the masses, comes from both red and white wine mixed with indigo dye and anthocyanin — a blue pigment in grape skin. It is primarily a sweet white wine, but due to a Spanish law that bars red and white-mixed wine to be sold locally, they were fined more than $3500 and forced to label the beverage as containing only 99 percent wine — and they couldn't sell it as wine either.
"Luckily, in the U.S., legislation embraces new and innovative products and is not as restrictive and anchored in the past as in Spain," said co-founder Aritz Lopez, according to Eater. "So we are confident [we can expand] quite fast."
That's pretty lucky if you live outside of the limited retail spots!
Gik is looking to bring their blue wine to New York, New Jersey, Michigan, Washington, California and Nevada next, though each state has a different process.
Sources: Eater, GIk / Featured Image: Pixabay
Tags:
blue wine
,
colorful wine
,
Gik
,
new alcohol
,
novelty wine
Blue Prosecco Is A Thing, But What Makes It Prosecco? (Photo)
category:
By Cooking Panda
This strange new blue prosecco might start a new blue wine craze, but it's not exactly prosecco. It's more like a mixture of a few drinks, but the mixture does include prosecco.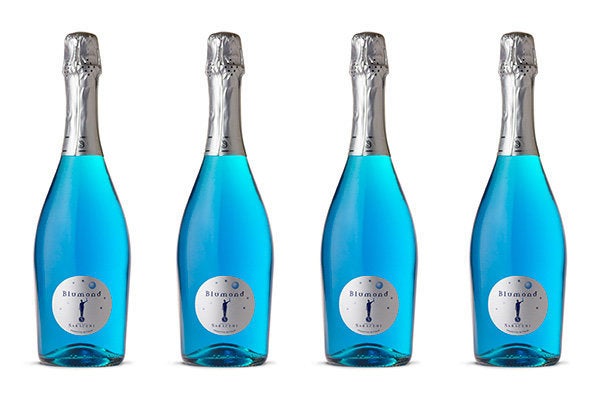 The bright blue wine is called Blumond, and according to Huffington Post, it consists of a mixture of prosecco, blue curacao and peach juice. Think of it more as a wine cocktail that features prosecco. Italian wine lovers apparently aren't loving the new concoction, because of the color, of course, and also because the alcohol by volume is only 7 percent.
The Daily Mail reports that many of these critics feel that the "wine" can't be called wine, since the alcohol level is below the 10 percent mark, which is how much it takes to be considered wine by Italian law. The wine is currently available in China and the U.S. (selling for $21.95 per bottle), and those at the Tuscan firm Fratelli Saraceni want to bring it to Sicily in May. I have a feeling it won't go over well in its native country, but with our brightly colored food item fad in full swing currently, I'd say it will take off here in the U.S.
The aim is to make it over to Rome and Milan, cities that are open to these types of fun, trendy new flavors and foods. The U.S. has already had this wine for a little while, as has Australia, but the fun, colorful food (aka "unicorn") trend is much newer, so the sales numbers for Blumond will probably rise a bit. It also takes a time for word to spread about a new product, so many of us still haven't had a chance to try it.
The wine is being marketed as a special occasion wine for weddings and special events. It's reportedly a good idea for a before-meal treat at a wedding, so keep this fun blue drink in mind if you have something special coming up! Personally, I don't need a special occasion to try blue wine.
Sources: The Huffington Post, Daily Mail / Photo Credit: servcemil/Pixabay, The Huffington Post via Blumond
Tags:
blue wine
,
Blumond
,
Italian Wine
,
prosecco
,
wine
,
Wine Cocktail
Blue Wine Is Making Its Way To America Very Soon
category:
By Cooking Panda
Blue wine from Spain will soon be available in the United States.
Gik Live, a Spanish startup founded by a group of university students, developed a blue wine that has become increasingly popular throughout the Iberian Peninsula. As Spain has an expansive wine industry, the founders of Gik Live "wanted to shake things up," according to co-creator Aritz Lopez.
"We are not vintners. We are creators," Gik Live's official English-language website explains. "So we sought the most traditional and closed minded industry out there. Once having selected the wine industry as our battlefield, we set about creating a radically different product, changing the [color] to a vibrant blue and making the wine sweeter and easier to drink."
Unlike traditional Spanish wines, Gik's blue wine is composed of both red and white grapes from different regions throughout Spain and France, mostly in La Rioja, Zaragoza and Courthezon.
"That's right: we work with grapes from different areas of Spain, whose color and flavor we improve through food tech" the website states. "We choose these wineries in terms of the people who work them and their innovative nature. That's why Gik has no [destination] of origin, but a guarantee of quality and unique flavor."
The wine was developed in conjunction with the University of the Basque Country and food research firm AZTI Tecnalia. In order to create the blue color, the mixture of red and white grapes is combined with the organic pigments indigo and anthocyanin, both of which are extracted from the peel of the grapes.
Master Sommelier Alpana Singh, owner of Seven Lions Chicago restaurant, told WMAQ that she had never seen blue wine before.
"I have never seen wine that color," Singh said. "I've been doing this for over 20 years and I don't know anyone [who's] mentioned blue wine."
She explained that such an unconventional wine could easily appeal to new customers for the novelty aspect alone.
'I think anything that delights your customers and adds to [the] experience and makes it … memorable and fun to do, why not?" Singh said.
"It's so far from the spectrum of what you would consider wine to be."
Sources: Gik Live, WMAQ / Photo credit: Gik Live/Instagram
Tags:
blue wine
,
Gik Live
,
Spain
,
wine
Blue Wine Is Now A Thing (Video)
category:
By Cooking Panda
In addition to red, white, and rose wines, we now have an entirely new color to choose from (video below).
Gik Live, a Spanish startup that claims to "represent the innovative side of life," has developed a blue wine.
"Actually, none of us liked wine, so we decided to make something that we liked," Artiz Lopez, the 22-year-old co-founder and advertising and public relations student, told Cadena Ser, in Spanish.
As Spain is known for its renowned wines, the founders of Gik wanted to change the attitudes that are often associated with the industry. Lopez jokingly said that he and his colleagues, all of whom are in their 20s, "had always wanted to shake things up."
"The wine world seemed ideal because it hasn't changed in centuries," Lopez explained. "We do not like the atmosphere that surrounds [the wine industry], that obsession with the destination of origin, or the idea that only a few are equipped to enjoy it."
The wine, which contains 11.5 percent alcohol, was developed along with the University of Basque Country and AZTI Tecnalia, a food research firm. Both red and white grapes were gathered from vineyards throughout the country to create the colorful beverage. Although the company prides itself on its rebellious spirit, it has fully abided by the standards and high quality controls set by the European Union.
The blue pigment is extracted in part from anthocyanin found in the peel of the grapes, which was discovered during the wine production process.
"Someone described our product as blasphemy, but we don't mind being blasphemous," Lopez said.
Gik wine costs about $11 a bottle and is already available throughout Spain, mostly in Madrid, Barcelona, Basque Country, and in tourist areas along the coast. Several suggestions for cocktails using the wine are available on the company's official website, such as "Russian Nights" and "Arctic Flower."
"People either love it or hate it," said a spokesperson for the company.
The wine will soon be available in the U.K., France, the Netherlands, and Germany, but customers outside of Spain can currently order the "innovative" beverage by contacting the company directly. Check out the video below to see the wine in action. It's all in Spanish, but it's worth it for how pretty it looks.
Sources: Cadena Ser, Gik Live / Photo credit: giklive/Instagram via Metro
Tags:
blue wine
,
Gik Live
,
innovative
,
Spain
,
wine