Get Beyonce Beer Before They're Irreplaceable (Photos)
category:
By Cooking Panda
If you like beer, Beyonce or both, you've probably already heard of Bieryonce, a German-style pilsner from the Brooklyn-based brewery Lineup Brewing.
And if you like beer, Beyonce or both, you've probably also heard that the "Formation" singer called on the brewer's owner, Katarina Martinez, asking to cease and desist production of the laudatory beverage just two weeks after it hit shelves.
The tribute beer features the same lettering as Beyonce's 2013 self-titled album.
Martinez told Pitchfork that her female-run business was inspired by the "Run The World" singer. The Brooklyn brewer said she was disappointed after receiving the letter but said the limited-run pilsner tribute was "fun while it lasted."
Lineup Brewing's Bieryonce was so highly received after its limited run in October 2016 that Martinez decided to relaunch the product again in November 2017. Unfortunately, Beyonce's management team caught wind of the boozy homage, halting production immediately.
If you want to get your hands on these now irreplaceable Beyonce tribute beers, act quickly because Lineup Brewery's remaining beers are still available in only a select few New York stores, such as Beer Karma and Malt and Mold, until supplies sell out. It'll be the best thing you've ever had.
Lineup Brewery has since halted production but was quick to take action to salvage its German pilsner by renaming it to "Katarina" after its owner. Bieryonce will quickly phase out and be replaced by Lineup's latest self-titled beer, which was posted on Instagram just a few days after the cease and desist letter.
"Ask and Bey shall receive," the post reads. "We're still huge Beyonce fans."
According to Refinery29, this is not the first time the "Love On Top" singer had to steamroll tribute merchandise. An Etsy shop owner sold "Feyonce" mugs, which stopped following a cease and desist letter, and the artist is currently challenging a clothing company called Poison Ivy Park, which sounds a little too similar to Beyonce's clothing brand, Ivy Park.
If you're feeling drunk in love with Queen Bey, get in formation like everybody else.
Sources: PopSugar, Refinery29, The Drinks Business / Featured Image: idrewuk/Wikimedia Commons
Tags:
beyonce
,
Bieryonce
Of Course Beyonce's Birthday Cake Was Stunning! (Photos)
category:
By Cooking Panda
If you thought your sparkly birthday cake was rockin', I regret to inform you that like most things in life, it probably doesn't even come close to matching up to Beyonce's.
Sorry to ruin the fun, but if you didn't drop thousands of dollars on a geode-themed black and yellow cake, then your extravagant birthday party might only be in second place when it comes to aesthetics.
To ring in her 36th birthday in a big way, the legendary singer enjoyed a celebration during the Made in America festival in Philadelphia on Sept. 3, according to Page Six.
Cake Life Bake Shop, an establishment not far from the festival, took at least $3,500 from the star's people for the sugary masterpiece — and that's just judging from the lowest price that they charge for geode cakes.
"It was pretty amazing," the shop's co-owner, Lily Fischer, told Philly Mag. "Everyone here knows that I love Beyonce … pretty much the whole week we just blasted Beyonce."
Check it out:
Fischer and head chef Rebecca Craig cranked out the three tiers of honey lavender-flavored cake decorated with edible sugar crystals, accompanied by beehive-shaped cookies and golden crowns modeled after the pop queen's 2017 Grammy performance.
"We wanted to keep it classy and cool," added Fischer, who said she hopes they "get to do it again" next year if Beyonce is in town for 37. "Everything was Queen Bey-ified, if you will."
Fischer told Page Six that making the iconic cake "is a two-day process," not to mention the brainstorming and designing they needed to do for their high-profile customer. Ultimately, Fischer and her team relied on their Beyonce fanhood to craft the masterpiece, since they only received vague instructions from Bey's people.
"The caller asked for various items and then specifically black-and-yellow-colored items, including a black and yellow geode-themed cake," a source told Page Six, noting that they ordered a number of cakes and cookies that included the sparkly centerpiece.
One thing's for sure: Bey does birthdays right.
Sources: Philly Mag, Page Six / Featured Image: Nat Ch Villa/Wikimedia Commons / Embedded Images: Cake Life Bake Shop/Philly Mag
Tags:
beyonce
,
Beyonce birthday
,
Beyonce cake
,
expensive birthday cake
,
Geode Cake
This Statue Of Beyonce Is Literally So Cheesy (Photo)
category:
By Cooking Panda
Sometimes, when you're in a bad mood, all you need to do is think of something glorious or wonderful about life to help lift your spirits again.
Maybe it helps put a smile on your face remembering a nice evening you spent with a loved one; perhaps one movie can always be counted on to cheer you up, or a particular album.
Or maybe this will do the trick:
According to Huffington Post, a London-based creative agency joined forces with a team of designers and artists and brought one of the most magnificently cheesy creations into the world so far.
No, really. This is super cheesy.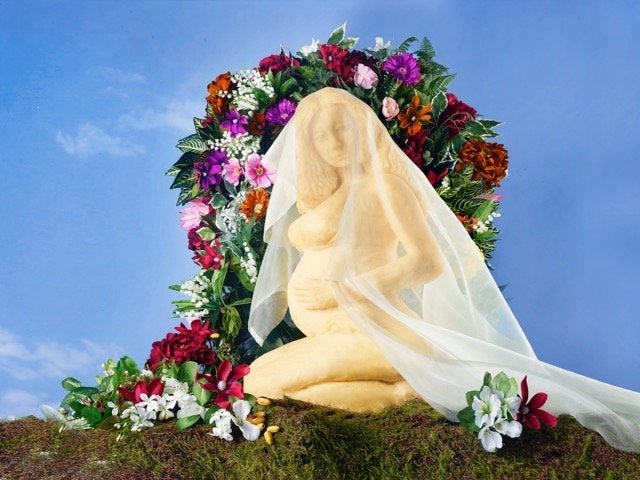 That's exactly what you think it is, folks, if you happen to think that the photo above looks like a replica of queen Beyonce herself (in the same pose she was in when she announced that she was pregnant back in February), only sculpted entirely out of cheese.
Oh my gouda!
"Brie-Once" (which rhymes with Beyonce, of course) is a 45-pound masterpiece comprised of cheddar cheese, and was brought into being over 28 hours of hard work and probably lots of munching by the creative team.
Brie-Once is slated to appear at a wine ad cheese festival in London, and was created specifically for The Robin Collective by creative director Brandy Klingelpuss, designers Guy Roberts and Robin Fegen, and sculptors David Bradley and Jacqui Kelly.
"Hopefully she won't lose her formation," said Rosa Holmes, from The Robin Collective, to Huffington Post.
What do you think of the cheese statue?
Source: The Huffington Post / Photo Credit: The Robin Collective via Huffington Post
Tags:
beyonce
,
brie-once
,
cheese goddess
,
cheese sculpture
,
the robin collective
Boozing Away The Beyhive: Rachael Ray Sends Rachel Roy A Bottle Of Wine And A Straw
category:
By Cooking Panda
We previously reported about how Rachael Ray became the mistaken target of the Beyhive's anger after the famous chef was confused for the alleged real-life inspiration behind Beyonce's "Becky with the good hair," Rachel Roy.
After having her Instagram besieged with insults meant for Roy, the 47-year-old Food Network star sent Roy a gift to help her booze away the Beyhive: a bottle of wine and a straw.
"Rachel sent me flowers and I sent her a bottle, a big bottle of wine and a straw," Ray told Us Weekly at the HealthCorps 10th Annual Garden Gala in New York City on May 10.
"[I was going to send Roy] Brunello di Montalcino, where I was married, but I said for our office to ask her office if she drinks red and if she didn't drink red, to send Grande Dame," Ray continued. "So I don't know actually which one she got. I wrote the card and she got the straw and the booze."
According to US Weekly, it turns out this isn't actually the first time the two Rach(a)els have crossed paths due to their similar monikers. Ray told Us that she once accidentally picked up Roy's dry-cleaning.
"[It was] hilarious. I thought it was the coolest thing ever! I was like, 'Are you kidding me? I'm even mentioned in the same sentence as these people? That's insane. That's awesome,'" she explained to Us, laughing. "I think honestly that it was really much more uncomfortable for the rest of the people in that group than for me. I was like, 'I'm mixed in with all of those peeps?! What the hell?!'"
"I mean, it's so far removed from my life," Ray added. "I'm a cook. I have a little talk show. We chit-chat."
Click here to LIKE Food Please on Facebook
Source: Us Weekly / Photo credit: Zimbio
Tags:
beyhive
,
beyonce
,
lemonade
,
rachael ray
,
rachel roy
Forget Hot Sauce And Lemonade! Queen Bey Invests In Watermelon Juice
category:
By Cooking Panda
Queen Bey is at it again. A little more than a week after Beyonce released the wildly popular "Lemonade," a visual album promoting black female empowerment, and began her "Formation" world tour, the singer has invested in WTRMLN WTR, a line of cold-pressed watermelon juice.
Beyonce revealed the reasons for her investment in a press release, stating, "I invested in WTRMLN WTR because it's the future of clean, natural hydration; as partners, we share a simple mission to deliver accessible wellness to the world."
The pop superstar went beyond a simple statement of intention, however, suggesting, "This is more than an investment in a brand, it's an investment in female leaders, fitness, American farmers, and the health of people and our planet."
While these may seem like lofty claims for a simple economic investment, recent trends suggest that Beyonce has become a global force to be reckoned with. Red Lobster, which is mentioned in the singer's hit song, "Formation," saw a huge spike in sales following the release of the single, and the lemon emoji has seen a major rise in popularity over the past week.
WTRMLN WTR is currently available at Costco, Amazon, and Whole Foods, but we expect to see a large spike in sales following the pop star's announcement. A drink that promotes female empowerment, physical health, and the American economy? Sign us up!
Source: Eater / Photo credit: WTRMLN WTR via Eater
Tags:
beyonce
,
Formation
,
juice
,
lemonade
,
Watermelon
ATTENTION BEYHIVE: You Have The Wrong Rachel!
category:
By Cooking Panda
It all started April 23, when Beyonce (in typical, flawless form) surprise-released her stunning sixth studio album Lemonade on Tidal; hours later, the Beyhive got in formation and swarmed celebrity chef and talk-show host Rachael Ray's Instagram page with insults.
But why?​
You see, many fans have interpreted a lyric from the album's song "Sorry" to address the alleged affair of the famed singer's husband, Jay Z, with Rachel Roy, a woman who was married to Jay Z's former business partner and manager Damon Dash from 2005 to 2009. But, as the Daily News reports, when Beyonce's loyal fan-base went online-hunting for Roy, they mistakenly ended up on Ray's food-centric Instagram page instead.
Fans left comments on Ray's photos that ranged from straight-up outrage on behalf of Beyoncé to speculation about Jay Z's figure in relation to Ray's cooking.
"Now we can see why Jay cant get skinny," commented @dannyryry.
Others focused more on the time it must have taken Ray to whip up her culinary treats:
Some swore off chicken fajitas and chili in the name of their Queen:
Still more offered culinary tips:
And finally, many came just to express their disappointment:
Luckily, some innocent fans of the chef recognized what was going on, and came to Ray's defense, pointing out the Beyhive's misdirected anger.
"Dang all this lady is trying to do is make brunch and people are dragging her for no reason #ThisIsTheWrongRachael," commented a user named Mama Maia.
The right Rachel Roy reportedly made her Instagram account private after the release of Lemonade, although she did tweet, "I respect love, marriages, families and strength. What shouldn't be tolerated by anyone, no matter what, is bullying, of any kind," reports The Daily News.
Still, something tells us Roy won't be ordering any "side" dishes with her meals any time soon…
Sources: rachaelray/Instagram, The Daily News / Photo credit: WENN.com/Pinterest via She Knows
Tags:
beyonce
,
celebrity chef
,
lemonade
,
rachael rae