Poke Cake 2 Ways
category:
By Cooking Panda
Reese's Poke Cake
Ingredients
1 box chocolate fudge cake mix
12 ounce chocolate fudge, warmed
8 ounces cream cheese, softened
14 ounces condensed milk
1 cup peanut butter, softened
12 ounces Cool Whip
10 Reese's Peanut Butter Cups, chopped
Directions
1) Prepare chocolate cake according to package instructions in a 9×13 baking dish. Remove from oven and allow to cool.
2) Once cooled, use the back of a wooden spoon or chopsticks to poke holes all over the cake. Pour half the chocolate fudge over the cake, making sure to get inside the holes. Refrigerate.
3) To make the peanut butter topping, whisk together cream cheese and condensed milk in a large bowl. Add peanut butter and continue whisking until combined. Gently fold in half of your Cool Whip.
4) Spread peanut butter mixture over cake. Refrigerate until cooled.
5) Top cooled cake with remaining Cool Whip, remaining fudge and chopped Reese's Peanut Butter Cups.
6) Serve and enjoy!
BBQ Cornbread Poke Cake
Ingredients
2 packages cornbread mix
2/3 cup milk
2 eggs
1/2 cup sour cream
1 avocado, diced
Salt and pepper, to taste
Juice of 1/2 a lime
1 1/2 cups BBQ sauce
2 cups chicken, cooked and shredded
2 cups shredded cheese blend
Chopped cilantro, for garnish
Directions
1) Preheat oven to 400 degrees Fahrenheit.
2) In a large bowl, add cornbread mix, milk and eggs. Mix until fully combined. Pour into a greased cast iron skillet or any oven safe dish. Bake for 20 minutes or until cooked through. Remove from oven and allow to cool.
3) Add sour cream, avocado, salt, pepper and lime juice to a food processor. Blend until smooth. Set aside.
4) Using the back of a wooden spoon, poke holes in the cornbread. Pour BBQ sauce over bread and spread it around, so the sauce gets into the holes. Top with chicken and cheese.
5) Broil for 5 minutes, or until cheese is fully melted and slightly browned. Remove from oven.
6) Serve with avocado cream sauce, garnish with chopped cilantro and enjoy!
Tags:
bbq
,
Chicken
,
dessert
,
dinner
,
Poke Cake
,
recipes
,
Reese's Cups
,
Savory
,
sweet
Lust After These 13 Mouthwatering Barbecue Gifs!
category:
By Cooking Panda
I'm in the mood for big hunks of meat that have a nice crispy crust on the outside and luscious, tender melt-in-your-mouth goodness on the inside. Feel me?
Turn on your grill and toss some wood chips into your smoker. It's time for a barbecue!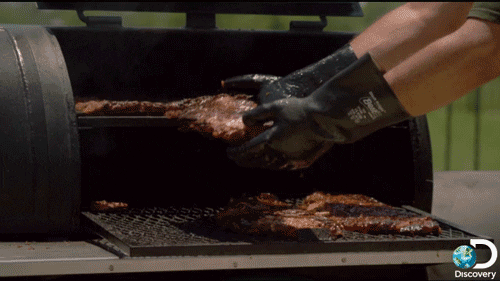 Hit that pork with a generous sprinkle of that nice dry rub. You know how it goes.
#bbqbae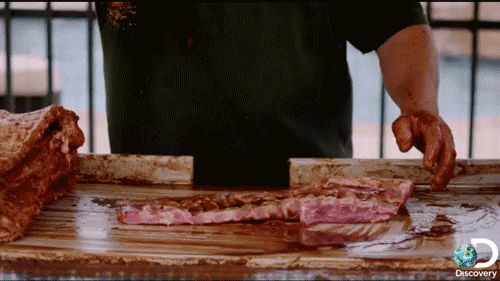 These beef ribs are just asking for my attention. Look at them!
Smoke that brisket!
How about some tender, juicy and flavor-packed chicken? You know that smoked chicken is the best chicken.
Some phat brisket?
Or do you prefer the leaner stuff? Let's work together. The world needs both types.
Here is a nice luscious rack of ribs, if that's more your speed.
Time to chop it up! Since you've been smoking these for hours, the knife should just slide right through those tender ribs.
You can probably pull your tender pork by hand if you want, but this is just too beautiful.
Now it's time to add a final squirt of bbq sauce and devour! Enjoy!
Featured Photo Credit: ​Heather Cowper/Flickr
Tags:
Barbecue
,
bbq
,
food gifs
,
foodporn
,
Hump Day
BBQ Bacon Chicken Ranch Wontons
category:
By Cooking Panda
Slow Cooker Korean BBQ Tacos
category:
By Cooking Panda
BBQ Chicken Bread Boat
category:
By Cooking Panda
BBQ Crockpot Chicken
category:
By Cooking Panda