Lust After These 13 Mouthwatering Barbecue Gifs!
category:
By Cooking Panda
I'm in the mood for big hunks of meat that have a nice crispy crust on the outside and luscious, tender melt-in-your-mouth goodness on the inside. Feel me?
Turn on your grill and toss some wood chips into your smoker. It's time for a barbecue!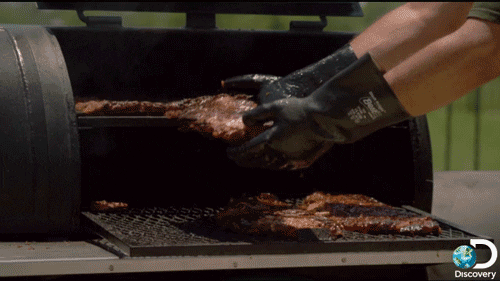 Hit that pork with a generous sprinkle of that nice dry rub. You know how it goes.
#bbqbae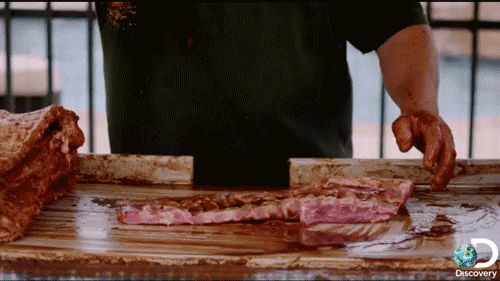 These beef ribs are just asking for my attention. Look at them!
Smoke that brisket!
How about some tender, juicy and flavor-packed chicken? You know that smoked chicken is the best chicken.
Some phat brisket?
Or do you prefer the leaner stuff? Let's work together. The world needs both types.
Here is a nice luscious rack of ribs, if that's more your speed.
Time to chop it up! Since you've been smoking these for hours, the knife should just slide right through those tender ribs.
You can probably pull your tender pork by hand if you want, but this is just too beautiful.
Now it's time to add a final squirt of bbq sauce and devour! Enjoy!
Featured Photo Credit: ​Heather Cowper/Flickr
Tags:
Barbecue
,
bbq
,
food gifs
,
foodporn
,
Hump Day
Will You Pay A Visit To Paula Deen's Restaurant?
category:
By Cooking Panda
There will be a new Paula Deen restaurant opening in Savannah, Georgia, this summer. It will feature lots of seafood, and even some barbecue. You down?
Even after she was dropped from the Food Network for controversial comments, Paula Deen still has a strong following. According to Delish, she's appeared on "Dancing with the Stars" and her own show called "Sweet Home Savannah" since that time.
Paula posted on Facebook that she's going to be opening yet another restaurant in Savannah, come June. This restaurant is called Paula Deen's Creek House, and it's already garnered over 4,500 likes on Facebook. In her post, Paula says, "I'm so excited because, this June, I'm opening a brand-new restaurant here in Savannah: Paula Deen's Creek House! Nestled on the water, we're servin' up a mix of seafood favorites and Southern classics. What are y'all hoping to see on the menu?"
The menu will be featuring chargrilled oysters, fried catfish, shrimp 'n' grits and more. For those who don't love seafood, Paula's menu includes a barbecue section for her sons' recipes, which features baby back ribs, pulled pork tacos and marinated sirloin. This restaurant will really have a true surf 'n' turf menu!
The menu is available for download on the Paula Deen's Creek House website, where you can see what else will be featured. Imagine items such as a fried seafood platter (because, duh, it's the South!), fried pickle appetizers, and grits on the side. Hungry for some southern cookin' yet?
Paula's other restaurant in Savannah is called The Lady & Sons, and features down-home favorites such as fried chicken, fried okra, crab stuffed shrimp and chicken pot pie. There's even a buffet, so that guests can feel totally relaxed and can enjoy southern comfort food at their leisure. If you head out this summer to try Paula Deen's Creek House, you might as well stop by The Lady and Sons, too, to get the full Paula Deen experience.
Sources: Delish, Paula Deen/Facebook, The Lady & Sons / Photo Credit: Paula Deen's Creek House/Facebook
Tags:
Barbecue
,
comfort food
,
Paula Deen
,
seafood
,
Southern Cooking
Would You Try McDonald's Latest Meal Creation?
category:
By Cooking Panda
McDonald's in the Czech Republic is offering up some new menu items that could be delish, or could be a swing and a miss. That all depends on how much you like barbecue!
Brand Eating reports that the menu features bone-in ribs, among other potentially tasty barbecue sauce covered items. One order consists of three ribs (is that enough for anybody?) and comes with a side of dipping sauce. The other menu items are called Big Tasty Bacon and Big BBQ Bacon. It seems like there's a pork theme going on here, too.
The ribs are only available for a limited time, but we think the Czech Republic is lucky to have them at all! If they're anything like the McRib (just with the bones), we know they're probably crave-worthy. They are currently only available in the Czech Republic, so those of us in the U.S. with barbecue rib cravings will have to just wait each year for the McRib to keep coming back.
Barbecue and ribs usually mean summer and warm, sunny weather, so maybe if they do make their way to the U.S., it will be just in time for the proper season. It's likely that this won't happen, but we can hope for it …
If you're sad about the lack of bone-in ribs at McDonald's locations in the states, try and perk up with the extra-large or junior Big Macs currently available. Wash your burger down with a McCafe Chocolate Shamrock Shake for good measure. Then you won't feel as deprived. They're amazing separate and even better one right after the other for a yummy dinner/dessert combo!
When you're feeling especially cold (those winter days aren't quite over), you can always opt-in for a McCafe White Chocolate Mocha. See? There's still plenty to love at your local Mickey D's!
Sources: Brand Eating, McDonald's / Photo Credit: McDonald's via Foodbeast
Tags:
Barbecue
,
limited time
,
mcdonald's
,
ribs
This BBQ Course Looks Like The Best Class Ever
category:
By Cooking Panda
A college in South Carolina has added a barbecue class to the curriculum, and you'd be surprised how much there is to learn about barbecue!
According to BBQ Hub, the college is Wofford College in Spartanburg, South Carolina, and they offer one-month mini-semester classes that teach students about subjects outside of their regular curriculum. The students in the barbecue class study the history of barbecue, visit different barbecue restaurants, cook barbecue of their own and even have an end-of-semester cook-off.
The class is taught by David Alvis, an associate professor of political science, and Eric Nash, the school's offensive line coach for the football team. Southern Living reports that the class starts off with a history lesson on barbecue. "We read about 60 pages a night," said Alvis. "We wanted to teach the history first so that students would learn that food isn't just an abstract thing. It's part of a culture, part of a community."
The class gets to read such works as: "Barbecue: The History of an American Institution" and "Holy Smoke: The Big Book of North Carolina Barbecue." With barbecue being such a big part of southern culture, it only makes sense that there's a rich history tied to it.
Next, the class learns hands-on barbecue cooking techniques. Students work with Coach Nash to prepare, cook and present a cut of meat each week. The grade is based on a 10-point scale for execution and creativity.
"I started out wanting to make students professional barbecue chefs by the end of the month, but I realized that was insane. There were some disasters. They almost burnt my grill," said Alvis. "So my goal became more to help students appreciate food not just for its taste, but for its cultural context."
That sounds even better. Finally, the cook-off takes place, and the students present their recipes using the techniques learned in class, using beer brines and the like. They even had the cook-off in a brewery, whose CEO claimed that this was only natural, since beer and barbecue are meant to be together.
Sources: BBQ Hub, Southern Living / Photo Credit: Mark Olencki/Wofford College
Tags:
Barbecue
,
Barbecue Class
,
Cooking Class
,
Southern Barbecue
Grill Everything: 6 Awe-Inspiring Recipes You Should Make This Week
category:
By Cooking Panda
There's nothing quite like firing up the grill on a warm summer night. You get to enjoy the warm weather while your grill infuses savory smoke into your dinner and makes the whole area smell completely delicious.
Plus, you can grill almost anything — pizza! fruit! We'll show you how to do it with ease.
Impress your friends with this favorite. Here's everything you need to know about making the perfect jerk chicken, from the tangy, spicy marinade to the best grilling method to get that perfect tender texture.
Make these skewers with pork or chicken for a succulent savory-sweet meal.
The fact that you can grill an avocado should be enough reason to do it, but if you need more convincing, do it for the smoky flavors and beautiful, crisp grill marks.
Cauliflower is its best self when grilled. Slather it with pesto for extra happiness.
This is 100% a real thing. Not only do you get that delicious charred, smoky grill flavor, but this method also mimics super-hot pizza ovens, making it far superior to the soggy and/or cardboard textures that you sometimes get in a conventional oven.
Ready for dessert? Grill some summer peaches with pecans, butter and a whiskey caramel sauce to top it all off. Not only will you have fun grilling dessert (novelty!) but the peaches also get a gorgeous, delicious caramelization, so this is definitely a win-win dessert.
Featured Photo Credit: Faith Durand via The Kitchn
Tags:
Barbecue
,
easy weeknight recipe
,
grill
,
grill recipes
,
weeknight meals
BBQ Chicken Pinwheels
category:
By Cooking Panda
BBQ Chicken Pizza
category:
By Cooking Panda
Official Tells Men Their Barbecue Smoke Cannot Cross Property Line (Video)
category:
By Cooking Panda
A Florida man, Scotty Jordan, recently posted a video (below) on Facebook along with the caption, "Video of pinellas county environmentalist saying bbq smoke out of your yard is illegal! Had to record!"
The video, which has been shared over 30,000 times on Facebook, shows the official explaining to two men (one of them is presumably Jordan) that a neighbor has complained about their outdoor barbecue smoke and smell.
"I'm only here because of the odor, I'm only here because of the smoke," the official says.
The official tells the disbelieving men that he took pictures of their BBQ smoke, and adds:
Frankly, today, I can smell it, I can smell it again right now, but I'm on your property. You're allowed to have it smell on your property, so that doesn't count, but when I'm on the street, that's when it counts.
One of the men tells the official that the neighbor, who filed the complaint, previously called the police and fire department when they cooked outside.
The official informs the men that their barbecue smoke cannot cross their property line, and suggests they buy a grill that contains most of the smoke.
The Pinellas County website states in its environmental section: "Commercial barbecue cookers are not exempt from causing a nuisance odor. If a sufficient number of complaints, representing different households, are reported and an Inspector witnesses the problem, they can issue a Warning Letter."
Sources: Facebook, PinellasCounty.org / Photo Credit: Facebook Screenshot
Tags:
Barbecue
,
Florida
,
Pinellas County
,
smoke
,
Social