Oreo's Mint Hot Chocolate Found Only At 7-Eleven (Photo)
category:
By Cooking Panda
7-Eleven has partnered with Oreo to bring us a brand new hot chocolate to warm us through the winter months, and if you're a mint chocolate fan, you're going to love it!
To celebrate the winter holidays, "Milk's Favorite Cookie" company has launched an exclusive Oreo Mint Hot Chocolate available only at 7-Eleven stores and we have no doubt that this flavor will be a crowd favorite! And in keeping with the minty-fresh theme, the convenience store will also offer Oreo Mint Creme Cookies and the Milka Oreo Mint chocolate candy bar.
This is the second time that 7-Eleven has featured a special Oreo-flavored hot chocolate. The Original Oreo hot chocolate debuted in 2015 and was a best-selling, limited-time offer that year, according to Brand Eating. It's safe to say, Oreo hot chocolate flavors are here to stay for years to come!
2017 marks the year Mint Oreo took over the 7-Eleven chain! Oreo will be rolling out more new, exclusive mint-flavored products so you can enjoy your favorite mint and chocolate flavor combo in donut, cookie, candy bar and single-serve forms. (Although, who is Oreo to tell us what single serve is to us?)
Oreo Mint Creme cookies will be available only at select locations, while the exclusive single-serve sizes will not be available until 2018. This gives us plenty of time to figure out what "single serve" really means. Let's face it, one serving is two to three sleeves, am I right?
Anyone who told you that you can't eat Oreos for breakfast is wrong. 7-Eleven is now offering Oreo-themed donuts made with a chocolate cake donut and Oreo cookie pieces, topped with vanilla icing and Oreo cookie crumbles. A Mint Oreo hot chocolate with a side of Oreo donut? Yes, please.
And, for good measure, 7-Eleven also carries irresistible Milka Oreo Mint chocolate candy bars, which can be broken into bite-sized pieces for "sharing." Any true fan of Thin Mints or anything mint chocolate-related knows sharing is not caring — we want them all to ourselves!
7-Eleven is the place to be for chocolate mint fans, far and wide!
Sources: Brand Eating, CS News / Featured Image: Pexels / Embedded Image: Brand Eating
Tags:
7-eleven
,
Oreo Mint Hot Chocolate
Go And Get Free 7-Eleven Slurpees With Your Siblings
category:
By Cooking Panda
Who doesn't love a Slurpee from 7-Eleven? When you know they're offering them up for free, you've got to go cash in on that prize. That includes right now!
Foodbeast reports that you buy one Slurpee and get one free as an extended promotion of National Sibling's Day. Sure, National Sibling's Day is actually over, but 7-Eleven is being generous and offering the promotion until April 16. The deal is available at all participating 7-Eleven stores, and considering how many there are, there's probably one near you.
So, what kind are you going to get? Slurpee is advertising some new flavors lately that it's likely hoping you'll try. Take the Trolli Pineapple Lime flavor, for instance. This flavor was reportedly inspired by Trolli Sour Bite Sloths candy, and it features a combination of pineapple and lime. Nice and refreshing for the upcoming summer months!
Some regional flavors being offered currently are the St. Paddy's Day Sour Lemon Lime (probably not around for much longer, so try it if you can), Jones Cane Sugar Soda (the Orange Creme flavor) and Eureka! California Blackberry Lime, which is available only in California.
If you live in Utah, you might be able to find a Utah Blackberry Lime flavor. The Cactus Cooler is an orange and pineapple combination flavor available in Nevada, New Mexico and Arizona. If you're located in Colorado, St. Louis, Missouri, or Chicago, you'll have to try the Candy Apple flavor. Especially since it's a limited edition offer.
Texas patrons can now get the Manzanita Sol Apple/Manzana Slurpee flavor at participating Texas locations. It's basically everyone's favorite apple soda in Slurpee form. What's not to love? Finally, there's a Florida Strawberry Mojito that's probably perfect for beachy relaxation. It features the flavors of strawberry and mint. What more do you need?
Take a look at the Slurpee website if you want to see some other flavors to choose from, but it's probably not necessary. If you head to 7-Eleven, you know you're going to find a flavor that speaks to you. Time to go cash in on that deal!
Sources: Foodbeast, Slurpee / Photo Credit: Slurpee/Instagram
Tags:
7-eleven
,
Buy One Get One Slurpee
,
National Siblings Day
,
Slurpees
7-Eleven Now Offers Trolli-Inspired Slurpees
category:
By Cooking Panda
This just in, ya'll! Now you can have your Trolls and drink them too — well, Trollis, that is.
In an unexpected collaboration, Trolli has teamed up with the convenience store 7-Eleven to bring Trolli Sour Brite Sloths gummies into our lives, as well as a Trolli-inspired Slurpee that will allow you to experience the Trolli in a whole new way — as a beverage!
The Trolli Pineapple Lime Slurpee and the gummies are available for a limited time and exclusively sold at 7-Eleven, according to the 7-Eleven website, and will be in stores from now until April 30, 2017.
The gummies come in several flavors, including Blue Raspberry & Berry Punch, Strawberry & Grape and, of course, Pineapple & Lime, just like the drink counterpart.
According to the Slurpee website, for those curious, an 8-ounce Slurpee will run you 56 calories, so you can fit one of these highlighter-colored treats into your daily calorie allowance pretty easily.
Are you excited to try one of these new offerings? And what kinds of collaborations or Slurpee flavors would you like to see rolled out next?
Sources: Slurpee, 7-Eleven / Photo Credit: Slurpee
Tags:
7-eleven
,
pineapple lime
,
slurpee
,
sour brite sloths
,
trolli
7-Eleven Ups Its Coffee Game With This Fancy Brew
category:
By Cooking Panda
Do you ever feel like some words are just used by companies to trick customers into paying more for a standard-quality product?
Take the word "artisanal," for example. For a long time, the name conjured up in my mind images of high-end, absolutely decadent ingredients, grown in some fabulous vineyard somewhere with expensive, organic and earth-conscious soil, and meticulously harvested and then prepared before arriving in pristine condition to my dinner plate.
In reality, though, McDonald's has an "artisan" grilled chicken sandwich on its menu that costs me less than $5.00, and I usually get a tummy ache after eating it.
Sometimes, however, the convenience chain gets it right — 7-Eleven, for example, is now selling fair trade coffee from the Matagalpa region of Nicaragua, according to Fortune, and the best part is that the price of the brew is totally affordable.
"It's a great tasting, premium cup of coffee without the premium price," Nancy Smith, 7-Eleven senior vice president of fresh food and proprietary beverage merchandising, said in a press statement.
While some might say that the convenience chain is only trying to cast its net wider to lure in hipsters, we say that 7-Eleven should be commended for demonstrating that socially conscious products should be not only more widely offered, but also affordable to consumers.
For example, how great is it that if you buy this coffee from 7-Eleven, you do so knowing that it has been sourced from both growers and farmers who have pledged to meet strict and environmentally friendly standards, which are actively working to make sure wildlife, local communities and our environment can thrive and live prosperously for as long as possible?
Pretty great. And, you get some premium-tasting caffeine to go along with it.
Sources: Fortune / Photo Credit: 7-Eleven/Instagram
Tags:
7-eleven
,
coffee
,
fair trade
,
hipsters
,
rainforest alliance
Skittles Slurpees Are Coming To 7-Eleven! Which Flavor Will Be The Best?
category:
By Cooking Panda
From Sept. 12-18, you can buy one Slurpee and get one free. What better time to try the new Skittles Slurpee flavor??
According to FoodBeast, 7 Eleven has introduced a new Slurpee flavor of Skittles Green Apple. If you weren't ready for summer to end, here's a nice crisp summer taste to help you pretend it's not quite fall yet.
Go and buy one, and get the other free for a friend to try! They are available nationwide, so there's most likely one nearby, wherever you are.
7 Eleven has been known to match Slurpee with candy, like a Sour Patch Kids Slurpee this summer. Sadly, I didn't get to try it, but it was based off of a Sour Patch favorite: watermelon. Perfectly summery.
I wonder if this green apple Skittles flavor is successful, if we'll see even more Skittles flavors become available? As far as that goes, where are our other Sour Patch Kids flavors? Let's see some more craziness!
Personally, I'd like to see a combination flavor of a couple of different Skittles flavors, like maybe the green apple flavor swirled with cherry or lemon-lime. On the other hand, what kind of fall flavors could we hope to see? I'm not sure a pumpkin Slurpee would go over too well, but I guess we can sip our green apple Skittles Slurpees and dream.
Source: FoodBeast / Photo credit: Slurpee/Instagram
Tags:
7-eleven
,
Skittles
,
Slurpees
Grab A Bucket And Go Fill It With Slurpees From 7-Eleven!
category:
By Cooking Panda
In honor of 7-Eleven's 50th anniversary, we get to enjoy another Bring Your Own Cup Day this year!
On August 19 and 20, Slurpee lovers throughout the U.S. can head to 7-Eleven with an eligible cup of their choice to fill with their favorite drink. The first BYOCup Day of the year was held in March.
"This is Slurpee's 50th birthday year, so everything is bigger, and that includes BYOCup Day," explained Laura Gordon, 7-Eleven vice president of marketing and brand innovation, CSP Daily News reports. "This year's event is double the days and happening twice as many times. Last time, lots of people posted photos on social media, unofficially competing for 'most unusual' honors."
Unlike free Slurpee day, the BYOCup Day experience costs $1.50, which is about the average cost of a medium Slurpee. Customers can bring any cup that fits the guidelines, meaning it needs to be a sanitary, leak-proof, container that can fit upright inside the Slurpee display with a 10-inch-diamerer opening. Slurpee fishbowls, which can hold up to 32 ounces of delicious slushy goodness, will be available for $3.99.
"We started Slurpee season in the spring with BYOCup days, and we are closing out the summer with a second round," Gordon said, according to a Slurpee press release. "People loved it then, and we know they'll be back so we invite them to get creative and bring on the fun!"
As part of the promotion, 7-Eleven is encouraging its customers to use the hashtag #BYOCupDay to show off their unique containers. An animated Snapchat lens will be available on August 19, in addition to a geofilter that customers can use on the app both days, according to CSP Daily News.
Slurpee drinks purchased on BYOCup Day will also count toward the retailer's drink promotion offered exclusively through the 7-Eleven mobile app: Buy Six, Get the Seventh Free.
The convenience store, which is located in 17 countries, has also offered BYOCup Day in Canada, Australia, the Philippines, and Malaysia.
Sources: Slurpee, Slurpee Press Release, CSP Daily News / Photo credit: Edward Pevos/MLive
Tags:
50th anniversary
,
7-eleven
,
Bring Your Own Cup Day
,
promotion
,
Slurpees
You Can Now Get Slurpees Delivered By Drone
category:
By Cooking Panda
Less than two weeks after the mega Slurpee Fiftee event, 7-Eleven is shaking up the food world again with another Slurpee-themed innovation.
According to TechCrunch, the convenience store chain recently partnered with a tech startup called Flirtey to deliver Slurpees by drone. The inaugural delivery took place in Reno, Nevada, on July 10, and consisted of ferrying an order of Slurpees, a chicken sandwich, hot coffee, candy and doughnuts from a 7-Eleven store to a family's home.
The shocking news is made even more mind-boggling when you consider the fact that the Slurpee stunt constitutes the first drone delivery to a customer's home in the U.S., emphasizing the growing symbiosis between technology and food.
Flirtey, the company that built the Slurpee-delivering drone in question, is a privately held business with the mission of creating and flying drones that can be used in everything from humanitarian aid to retail. According to Flirtey CEO Matt Sweeney, the company is responsible for building their own drones, software, and even the packaging in which their flying machines deliver goods.
While there is no question that the Slurpee delivery was a path-breaking novelty, 7-Eleven has legitimate plans to offer delivery of its products by drone on a larger scale in the future. Despite the fact that no date has been set for the launch of a widespread drone delivery system, the company believes that the service would be especially useful to families for whom a trip to a store can become a hassle or inconvenience.
Following the successful drone delivery, Sweeney further commented that the Slurpee-themed event represents a sign of "rapid progress" in the path to mainstream drone deliveries.
The U.S. Federal Aviation Administration is expected to put new drone delivery rules into effect in late August, paving the way for instant Slurpee and doughnut deliveries for everyone!
Source: TechCrunch / Photo credit: TechCrunch
Tags:
7-eleven
,
delivery
,
Drone
,
Flirtey
,
slurpee
Get Excited! Free 7-Eleven Slurpees Are Coming In All New Flavors
category:
By Cooking Panda
If you are anything like us, you probably consider any day in which you can get free food a national holiday.
Well, thanks to 7-Eleven, there is exciting news for the free food lovers of the world. According to Foodbeast, the convenience store chain will be offering free Slurpees on July 11 in honor of Slurpee Fiftee—and that's only the beginning.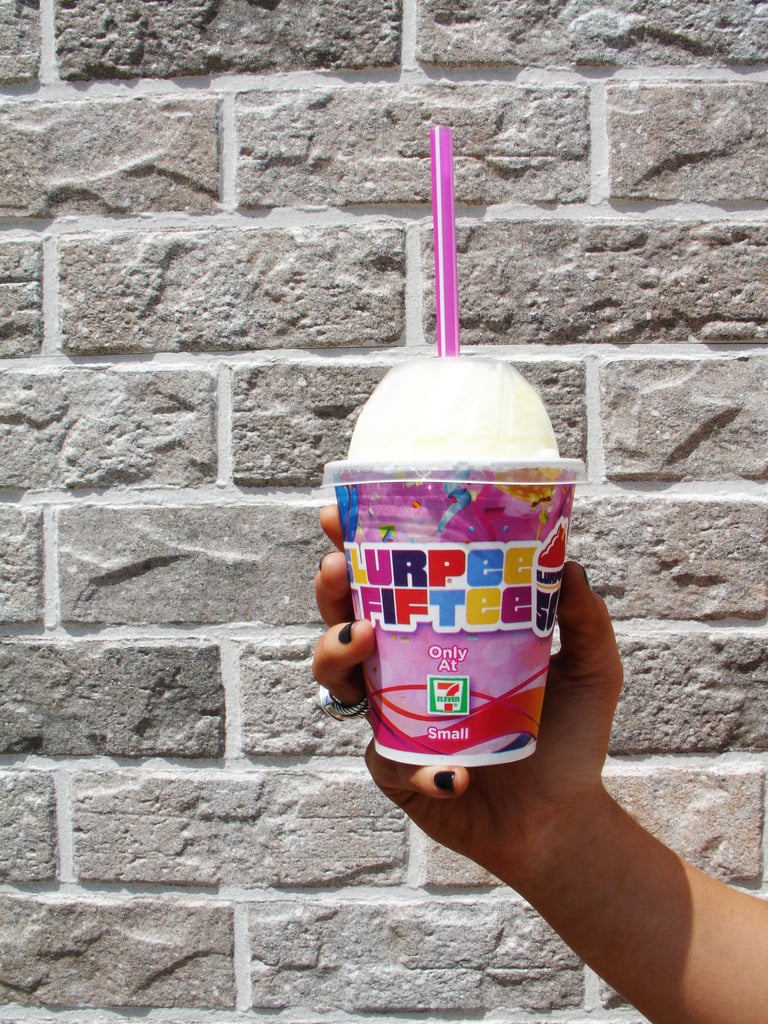 POPSUGAR reports that 7-Eleven will also be introducing new Slurpee flavors and products in conjunction with the special event. In keeping with the chain's tradition of unusual Slurpee flavors, you can now look forward to Birthday Cake, Fanta Birthday Cake, and Sour Patch Redberry Slurpees, in addition to such tantalizing products as Birthday Cake Slurpee doughnuts, Slurpee-flavored candy and Slurpee-flavored Chapstick!
The fun doesn't end there, however—true Slurpee lovers who purchase seven or more Slurpees through the 7-Eleven app during Slurpee Week will also receive 11 free Slurpee drinks, valid through the end of July. Say that five times fast!
If Slurpee Fiftee sounds like a dream come true, you're not alone. We've already marked the day on our calendars and downloaded the app in anticipation of the sugar-fueled event.
Free Slurpies will be available from 11 a.m. to 7 p.m. on July 11 at all participating 7-Elevens, and Slurpee week is July 12-18. Customers who visit stores on the appointed day and time will receive one free small Slurpee drink, while supplies last. So we suggest you bring friends in order to sample all of the new flavors!
Sources: Foodbeast, POPSUGAR / Photo credit: 7-Eleven
Tags:
7-eleven
,
slurpee
,
Slurpee Fiftee
7-Eleven Debuts New Blue Raspberry Slurpee Donut For Shark Week
category:
By Cooking Panda
When it comes to food, everybody has a preference.
I have always been a fan of strawberry jam; my older sister, on the other hand, tends to gravitate toward grape. The brave amongst us prefer their coffee black, while others take it with cream (and others still with… pea milk?)
Still, if there's one dining tendency that has the ability to unite us all, it's humankind's collective love of dunking various food items into beverages. Cookies and milk were made for each other; our friends across the pond pair their digestives with tea; and everybody knows the classic combo of donuts dunked in…
Slurpees?
Forget coffee. 7-11 is known for its frozen Slurpee drinks (I'm sure I wasn't the only one who used to stop by every day after middle school to grab one with friends), and now its signature icy beverage has taken on a new form: the Slurpee Donut.
While the chain has been offering a wild-cherry version of the treat since March 2016, it is now debuting its Blue Raspberry-flavored sibling, in early honor of Shark Week.
Like its Wild Cherry predecessor, the Blue Raspberry Slurpee Donut is a frosted cake donut with the same taste-profile as its Slurped-Counterpart. The donut is then sprinkled with blue-colored sugar crystals for some additional icy, crunchy texture.
The chain is offering up a deal for both the Cherry and Blue Raspberry flavors: If you want to sample one of the treats for yourself, you can pick up both a ring donut and any size of coffee for $2.
Additionally, Brand Eating reports that 7-11 will be selling both shark cups and shark straws leading up to the Discovery Channel's Shark Week television period, which begins this year on June 26.
Click here to LIKE Food Please on Facebook
Source: Brand Eating / Photo credits: 7-Eleven, 7-Eleven/Brand Eating
Tags:
7-eleven
,
discovery channel
,
shark week
,
slurpee
,
slurpee donut