18 Taco Gifs To Get You Into The Cinco de Mayo Spirit
category:
By Cooking Panda
Guys, guys, guys! Cinco de Mayo is tomorrow! That's right! That means all you need to do is get through one more day before you can throw a big party to celebrate Mexico's unlikely win against France in the Battle of Puebla. So, to help you get through Hump Day, here are some out of this world taco gifs to help you mentally prepare yourself for tomorrow.
1. Seriously, tacos are divine. Just look at this sublime meat-filled tortilla shell.
2. We don't mean to #tacoshame, but we have to be honest – our favorite tacos are the real ones. You know, the soft kind dripping with juice?
3. Just look at those soft, warm tortillas, grilling gently.
4. First, you have to cook the meat until it is so tender it will melt in your mouth.
5. Got that down? Now it's time to slice it nice and thin.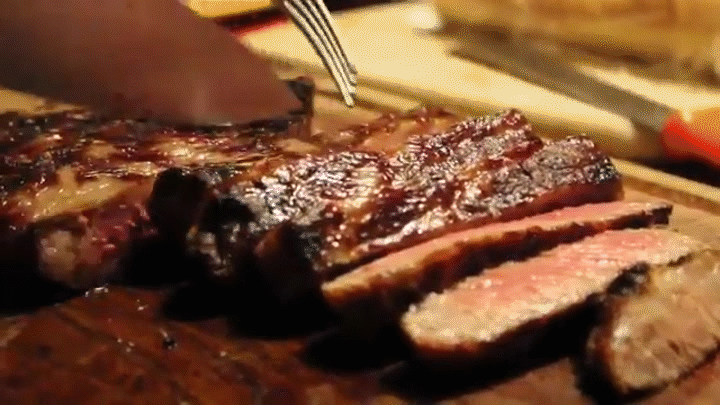 6. Chop that meat with flair!
7. We like a close shave, personally.
8. Either way, admire the expert skill that goes into preparing these divine snacks.
9. We are drooling at the way el taquero grabs that big hunk of meat.
10. And then chops it with deft hands.
11. And now the best part: loading it all up into a tortilla!
12. And adding some glorious sauce.
13. More meat, please!
14. Lots of toppings…
15. *drool*
16. Now for the finishing touches…
17. Here you go. Enjoy your beautiful taco.
18. Eat it however you want! We won't judge you.
Happy Cinco de Mayo!
Tags:
Cinco De Mayo
,
Hump Day
,
Mexican food
,
taco gifs
,
tacos
Cut Back On Junk Food Cravings With One Simple Trick!
category:
By Cooking Panda
Swimsuit season is almost here, and many of us are hoping to see our waistlines slim down for the summer. We may eat healthy food, but to actually crave it? Unlikely.
Fortunately, there's a simple trick we can employ to keep our cravings at bay, regardless of whether we are tempted at home, at work, or while spending time with friends.
Erin Oprea, celebrity trainer, former marine, and author of "The 4×4 Diet," knows that it's difficult to simply ignore our desires to eat unhealthy foods.
"Your life doesn't have to be around measuring everything you eat and obsessing over it," she said, as noted by Dr. Oz's The Good Life.
Therefore, she's come up with a simple, inexpensive trick to minimize these cravings. Just buy a pack of mint gum.
"I almost always have mint gum in my mouth," she explained. "You have to take it out to have a bite of junk food, and it's a pain. Mint gum also ruins the flavor of most things. If I do take it out, nothing is going to taste good anyway."
If you don't want to chew gum, she suggested using Listerine PocketPads instead.
"Those sheets will ruin your taste buds in a second," Oprea explained. "After having one in your mouth, everything tastes disgusting. It's like using mouthwash before you eat something."
Sources: Dr. Oz The Good Life, [2] / Photo Credit: Sporty Afros
Tags:
cravings
,
diet tips
,
Erin Oprea
,
Listerine
,
mint gum
Celebrate Earth Day By Cutting Down On Food Waste
category:
By Cooking Panda
Did you know that Americans waste up to 40 percent of their food, with the average family of four racking up a total of $2,275 in food waste per year?
In honor of Earth Day, here are some easy ways to minimize your food trash:
1. Plan your meals.
Figure out what you're going to cook for the week, make a grocery list before shopping, and try to use up all of your ingredients.
2. Shop smarter at the salad bar.
Don't buy more than you need. If you need only a small amount of a certain vegetable and know you won't use the whole bag they try to force on you in the grocery store, hit up a salad bar and take only what you need.
3. Use or freeze your leftovers.
One of the best parts of roasting a chicken is that you get the base for several days' worth of meals, right? Take it a step further.
4. Use FoodKeeper.
The USDA released an app that shows users the best way to store their food so it lasts the longest, and it will tell you exactly how long you can keep it for. Plan accordingly.
5. Compost.
Not only does compost do wonders to fertilize your yard by providing nutrients that encourage plant growth, but it is also a good way to make use of your food scraps. Here's everything you need to know about composting.
6. Grow your own herbs.
Vegetable gardens are awesome, but what if you live in an apartment? Don't worry, you can grow herbs indoors with limited space. It sure beats paying a lot of money for mint at the supermarket and not even using it all. Here's how to get started.
7. Donate your leftovers.
The logistics depend on where you live, but the idea is pretty simple: If you aren't going to eat it anyway, why not help out someone who desperately needs dinner? Find a food donation program here.
Now that you have some tricks up your sleeve to reduce your food waste, why not make this delicious dessert in honor of Earth Day? Kids and adults alike will love these "dirt cups."
Sources: Whole Foods, Food Safety News / Photo credit: U.S. Department of Agriculture/Flickr
Tags:
dirt cup recipe
,
Earth Day
,
food waste
,
how to keep your food longer
,
sustainability
Here's The History Of Pizza In Just Eight Slices (Video)
category:
By Cooking Panda
An interesting new episode of PBS' Idea Channel breaks down the history of one of the world's most treasured foods — pizza (video below).
In the episode, the delicious pie's lengthy history is broken down into eight different types — New York pizza, Neapolitan, Sicilian, Chicago deep dish, frozen pizza, delivery, leftover and international. Host Mike Rugnetta takes you through the pie's lifespan, even taking a look at the very fist pizzeria in the United States.
That pizzeria, Lombardi's, was opened in New York in 1905.
Rugnetta's 15-minute history lesson is perfect for any pizza lover who's interested in seeing where the Italian staple began and where it's going.
Watch the delicious history lesson below.
Source: PBS Idea Channel/YouTube / Photo credit: Wikimedia Commons
Tags:
history
,
Pizza
,
video
,
Viral
13 Droolworthy Chocolate Cake Gifs For Hump Day
category:
By Cooking Panda
It's Hump Day, and you can probably use a pick-me-up right about now. We get it, and we're here for you.
How about something sweet?
There's one thing we know for sure: you need more chocolate cake in your life. I mean, just look at how scrumptious that oozing cake is.
You're in for a treat that you can really sink your teeth into. These amazing chocolate cake gifs are everything. Take a look.
1. Just look at the way that beautiful icing swirls across the top of that cake.
2. Safe to say we're in love with chocolate. Can we drink that warm chocolate sauce? Is that ok?
3. There's no shame in eating a big bowl of frosting, ok?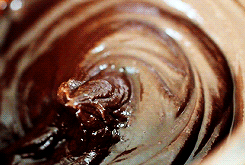 4. The way those white chocolate shavings sprinkle on top is pure art, and we can't take our eyes off it.
5. Red Velvet is still technically chocolate cake, and the way that hot, red center just melts was too beautiful to pass up. We don't want to discriminate.
6. We can't handle the way this melty, gooey chocolate sauce spills right over the top.
7. We're super jealous of that hand.
8. Where can we buy this machine?
9. Well… looks like it's time to bake a big chocolate cake.
10. Here, have a slice.
11. There you go.
12. Ladies and gentlemen, in all its glory: CAKE!
13. Or maybe you'd like a lava cake instead? Here, have a bite.
Happy Hump Day!
Sources/Photo Credit: Everything I love/Instagram, Huffington Post, BuzzFeed (2) (3), Giphy (2)
Tags:
chocolate cake
,
foodporn
,
gifs
,
Hump Day
How To Microwave Metal Safely
category:
By Cooking Panda
Everyone has heard horror stories about people putting metal in the microwave and causing a fire or explosion. But did you know that you can safely put certain kinds of metal in certain microwaves?
Make sure you check your owner's manual first, as microwaves vary from model to model, but the manual will tell you whether you can safely use items like aluminum foil or metal trays. If you're using foil, make sure it is smooth and new, not crumpled though.
Avoid nuking dinnerware with metal trim (unless it specifically says that it is microwave safe) and takeout containers with metal handles or twist ties. These are the bad examples that give all metal in the microwave a bad name.
The reason they can potentially spark up and cause a fire is something called arcing, which happens when an electric current jumps from one piece of metal to the other. This can happen from peak to peak of crumpled foil or from one part of a gold rimmed dish to another. If you ever see this, stop your microwave immediately and proceed with caution.
If you aren't sure if your item is safe for the microwave, always err on the side of caution and stick to a glass dish, or something that says "microwave safe" on it.
Did you know that you probably already microwave metal without knowing it?
The metal acts as a shield to block the waves that the microwave emits. Some food manufacturers use this principle to their advantage by including small bits of metal in food packaging to help the dish cook evenly. Popcorn bags often have metal susceptors to help the kernels pop evenly. Microwavable pizza packaging often uses the same idea to make the crust nice and crispy. These packages are all perfectly microwave safe as long as you follow the directions.
You can channel the same principles in your nuking adventures, too. Strategically placed small pieces of metal can cover the corners of brownies or lasagna, to keep them from burning.
If you're using foil, make sure to cover no more than ¼ of the food with it. Make sure no edges are sticking out and keep foil at least one inch away from the oven walls.
The bottom line: stick to the advice in your user's manual and you'll be fine.
Tags:
kitchen hack
,
metal
,
microwave