Just in case you thought your childhood summer camp experiences were complete -- running wild, swimming, arts and crafts -- we are here to tell you that you are 100 percent wrong.
You might have had idyllic experiences getting into trouble in the middle of a field, but we're going to have to be that guy everyone hates who constantly has to top your stories with a better one.
Because now there is Pizza Camp, an adult summer camp in the woods of Minnesota where you can stay overnight in the middle of nowhere, partake in archery and canoeing, and EAT PIZZA.
You can also partake in summer camp-type stuff…
Draw pictures of pizza…
And most importantly, build your own pie and fire it up in a legit wood-fired pizza oven.
According to Elite Daily, the most delicious summer camp ever costs $125 per pizza enthusiast, which includes lodging, cool activities, and most importantly:
PIZZA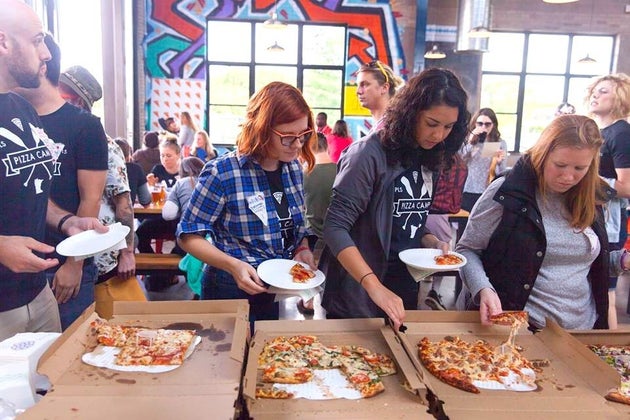 Admission to the event, orchestrated by our new heroes, the Minneapolis Pizza Club and Grown-Up Club, also comes with a super cool goody bag from Pizza Camp full of camp pins and pizza-related clothing and accessories.
Oh, and according to the Huffington Post, there is also free beer.
Sorry, did you hear that correctly? FREE BEER. And FREE PIZZA. (For the nominal fee of admission, that is.) You can also BYOB and probably anything else that you want. So…count us in.
It looks like we missed Pizza Camp this year, which ran earlier in September, but we're telling you about all this now so that you'll have plenty of time to register for the one next year. We have faith.
We also have a lot of pizza dreams, so you might see us there too.